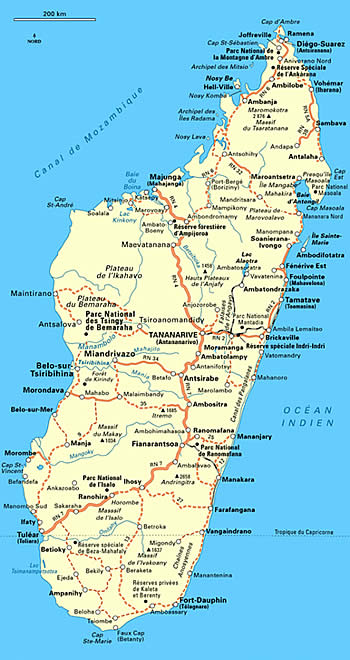 Almost hauntingly strange island, Madagascar is a living laboratory of evolution. Madagascar is a new destination far from mass tourism. The fauna and flora reached a record level of endemism of 80%, the lemurs are unique in the world, impassive chameleons, rare birds, frogs colorful, migrating humpback whales … All this makes it a dream destination for naturalists.
The landscapes are also appointments, the rice terraces in the highlands, the majestic Baobab and the Tsingy in the west, the thorny bush and savanna in the south, the rainforest in the east and finally the beaches and magnificent paradise islands in the north.
Rich in cultural beliefs unique blend Asian and African practices, it has kept its authenticity. The population itself is one of the most welcoming and warm.
The best time to discover the Big Island stretches from April to November during the austral winter. From December to March, it's the rainy season so certain sites are inaccessible. But this period is also the perfect time to observe reptiles.
Formalities :
– Passport valid for 6 months after the return date
– Visa issued within three months upon arrival at the airport in Antananarivo (30Euros or 35USD per person)
– Air ticket round trip
Health :
– No vaccine is mandatory for entry to Madagascar, but we strongly recommend to have updated hepatitis B, typhoid and diphtheria, tetanus and polio.
– Present on the coast and on highlands and in wet and dry period, malaria exists throughout the island throughout the year. Therefore we recommend taking anti-malaria treatment before, during and after the stay.